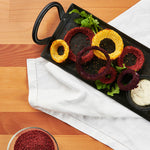 Ingredients:
1 yellow onion – ends trimmed off, peeled and cut crosswise into ½ inch slices
2 egg whites
2 tablespoons milk
1 pinch cayenne pepper, or to taste
3 cups Vegify or more if needed
½ cup all purpose flour or your favorite gluten free flour
Salt and pepper to taste
Cooking spray
Instructions:
Preheat oven to 450 degrees F. Separate onion slices into individual rings. Whisk eggs whites with milk in a bowl until thoroughly combined. Place Vegify into a separate bowl.
Place onion rings into a large resealable plastic bag. Add flour, salt and pepper and seal bag and shake until rings are well coated with flour. Drop flour coated onion rings into egg white-milk mixture, a few at a time and toss lightly with tongs until coated. Place rings into Vegify and gently shake the bowl to toss the crumbles with the onions rings until rings are coated with Vegify.
Transfer coated onion rings to a large baking sheet; spray rings lightly with cooking spray
Bake in the preheated oven until onion rings are tender and Vegify is lightly golden brown about 12 to 15 minutes.
Remove from oven and enjoy with your favorite dipping sauce!