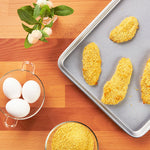 Vegify Coated Chicken Tenders
Ingredients:
1 ¼ lb chicken breasts, boneless & skinless
2 egg – beaten
1 cup Vegify
1 tablespoon paprika
½ teaspoon salt
¼ teaspoon pepper
Instructions:
Chicken breasts – Slice into strips. Season with some salt and pepper and tenderize with a fork. (Can be done up to 1 day ahead)


Prep breading stations – In one bowl or container, whisk eggs with some salt and pepper. Combine Vegify, paprika, salt, and pepper in a container with a lid or Ziploc bag.


Heat oven to 375F / 190C degrees.



Dip chicken into eggs and then toss into Vegify mixture. Cover with lid or zip bag and shake until Vegify coats chicken. Brush sheet pan with some oil and spread chicken out onto sheet pan. Bake for 12 to 15 minutes, until chicken is done and golden.



Enjoy chicken with your favorite condiment or sauce!