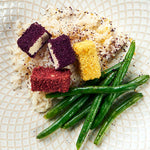 Ingredients:
1 block (14 ounces) extra firm tofu
1/2 cup vegetable broth
1 tablespoon lite soy sauce
1/2 cup all-purpose flour
2 eggs
1 cup Vegify
1 and 1/2 teaspoons paprika
1/2 teaspoon garlic powder
1/2 teaspoon onion powder
1/2 teaspoon cayenne pepper , optional - makes it spicy!!
1/4 teaspoon salt
1/4 teaspoon fresh ground black pepper
Instructions:
Preheat the oven to 400 degrees F. Line a baking sheet with parchment paper.
Slice the tofu into 10 squares: Cut the tofu into 5 slices along the long edge, then cut each column in half to make squares (see note for variations). Lightly press each slice of tofu with a paper towel to remove some of the liquid.
To make the marinade, stir together the vegetable broth and soy sauce in a shallow pan. Marinate the tofu in the vegetable broth mixture for at least 10 minutes.
Prepare 3 bowls: one with the flour, one with Vegify and spices, and one with the eggs. Coat the tofu in the flour, then the eggs, then Vegify.
Bake at 400 degrees F on the parchment lined baking sheet for 15 minutes. Carefully flip the tofu bites over, then bake for another 15 minutes. They're ready when golden brown and crispy.