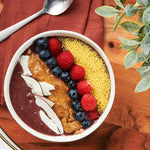 Ingredients:
1 banana -sliced and frozen
½ cup blueberries – frozen
½ cup strawberries- frozen
¾ cup milk or juice- use your favorite milk or juice
½ cup plain yogurt
2 packets (200 grams) Frozen Acai Puree – broken into pieces
Assorted Toppings – Vegify, Vegify Granola, Coconut, Fresh Fruit
Instructions:
Take all the frozen fruit and add it to the blender with the milk and yogurt. With the blender on low, use the tamper or spoon to push the frozen fruit down, mixing around as much as possible. Blend on low until smoothing, adding additional liquid if needed to adjust the thickness of the smoothie.
Take two bowls and divide out the smoothie and top with all your favorite toppings including Vegify, Vegify Granola, Coconut, Almond Butter and Fresh Fruit!
Enjoy immediately.