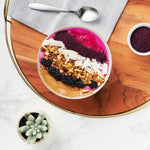 Ingredients:
1 cup frozen raspberries
2 packets (200 grams) frozen pink dragon fruit
½ cup frozen blackberries
5 ounces strawberry/plain/vanilla yogurt
2 tablespoons chia seeds
1 teaspoon lime juice (1/2 lime)
1 cup unsweetened almond milk or milk of choice
Toppings: Vegify, Almond Butter, Coconut, Fresh Fruit, Vegify Granola (link to recipe)
Instructions:
Add raspberries, dragon fruit, blackberries, yogurt, chia seeds and lime juice to the blender. Add almond milk, cover and blend on high until smooth.
Pour smoothie into a bowl and top with Vegify, Almond butter, Coconut, Fresh Fruit and Vegify Granola.
Enjoy immediately!