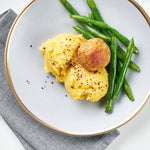 Ingredients:
1 pounds lean ground turkey
1/2 cup Vegify
1/3 cup onion minced
1/4 cup fresh parsley minced
1 large eggs
2 cloves garlic minced
1 teaspoons Worcestershire sauce
1/4 teaspoon dried basil
1/4 teaspoon dried oregano
Salt and freshly ground black pepper
2 tablespoons olive oil
Instructions:
In a large bowl, combine ground turkey, Vegify, onion, parsley, eggs, garlic, Worcestershire sauce, basil, oregano, 1/2 teaspoon salt, and 1/4 teaspoon pepper.
Using a strong spatula or your hands, mix well. Shape the mixture into 1-inch balls.
Preheat oven to 400 degrees. Line a rimmed baking sheet with foil for easy cleanup. Coat a wire rack with nonstick spray and set on prepared baking sheet.
Arrange meatballs on rack, brush with oil, and bake until browned with crispy edges, about 15 to 20 minutes (an internal thermometer should read 155 degrees for 15 seconds).